Robert E. Smith, CCIM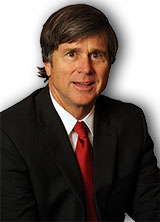 Robert E. Smith, CCIM
President and founder of Smith Equities Real Estate Investment Advisors (SEREIA)
Email: Robert E. Smith,CCIM
Has over 40 years experience in owning, rehabilitating, and managing apartments in the Orlando area.
About Robert E. Smith, CCIM
Robert E. Smith attended Western Illinois University for two years (Macomb, IL.), transferred to University of Florida (Gainesville) in 1976 where he earned a Bachelor of Science Degree in Finance, (1977). He received his MBA from University of Central Florida (Orlando) in 1982. In June, 1989, Mr. Smith obtained his State of Florida Mortgage Broker License, in May 1990, Mr. Smith received his Florida Real Estate Broker's License and in November, 1994 he received his CCIM designation.
From June 1990 through September, 2008, Mr. Smith directed the design and development effort on the Smith Equities Corporation's proprietary multifamily computer model known as the Advanced Multifamily Evaluation & Comparison System (AMECS). This system allows investors of multifamily complexes (both buyers and sellers) to utilize one source of information to evaluate past performance of the property with the market and compare the value per unit/square foot with all similar properties in the sub market prior to making the acquisition/disposition decision. Since 1990, Mr. Smith has been upgrading the computer model online to include all properties in the State of Florida and around the country. This includes over 20,000 apartment properties in Florida (115,850 Properties Nationwide) with a total of over 1,471,000 apartments in Florida alone.
In 2005, Smith Equities Real Estate Investment Advisors (SEREIA) developed an on line rental survey for the Apartment Association of Greater Orlando (AAGO) "www.aago.org" (www.MYRentComps.com). Every owner throughout the nation can update their own rents free of charge and can either update surrounding comps or they can email them showing what rents and occupancies they have on record for the property so they can update. The property manager (or any on-site personnel) can then log onto the web site directly from the emial, and update the rents and occupancy as necessary. Once the rents and occupancies are updated, they can choose up to 10 apartments for a current rental survey. They can then view the rent comp report by property or by unit type. All of the rents are then summarized by submarket for reporting of trends by the Apartment Association and MyRentComps.
In August, 2007, SEREIA created a web site called www.MyRentComps.com to allow property managers outside of the Orlando MSA to do the same type of surveys as AAGO's. The site was designed to save the property manager time on gathering rent comps. Once logged in, the owner/property manager can upload current photos and change/update any information pertaining to the rents, occupancies, and amenities. All information that is updated on MyRentComps.com will also automatically appear on: www.ApartmentsNowAvailable.com which is password protected. This site was designed to allow property owners the ability to give out rents, availability, rental brochures and application forms to both prospective tenants and people calling for a rent survey. All information that is updated on MyRentComps.com also automatically appears on: www.ApartmentsComingSoon.com which is also password protected. This site was designed to allow Developers to have the ability to give out proposed rents and other development details well ahead of actually placing a management team on the property. It will show the floor plans and the estimated rents so that people living in surrounding properties can schedule their lease expirations to line up with the new properties grand opening. Prospective tenants can easily shedule an appointment and join the waiting list well in advance of the property being finished.
The rent comp platform is now getting noticed by other Apartment Associations and now all apartment associations throughout Florida www.FAAHQ.org is offering the patented MyRentComps.com platform into their new member benefits package as a tool to help increase membership throughout Florida. In April, 2014 SEREIA and MyRentComps was issued a US Patent covering the Online Market Survey process.
Other Professional Experience
Mr. Smith started his professional career at Martin Marietta Orlando Aerospace Corporation (Now Lockheed Martin) in March of 1978 as an Associate Industrial Engineer. In 1982 he was honored in the top 100 employees in the Orlando Division, (top 1%) for outstanding performance. Later in the year he was assigned the Hercules Aerospace Corporation subcontract as an "off-site" Martin Marietta representative on the Pershing II Program. In 1984 Mr. Smith took over the responsibility of the Allied/Bendix subcontract on the Pershing II Program (contracts in excess of $63 million). He was promoted to Subcontract Manager in 1985 and was assigned to the Supersonic Low Altitude Target Program, (SLAT). In May of 1986 Mr. Smith was selected as Subcontract Manager of the month for his negotiation efforts with four major aircraft/aerospace companies. In August, 1986, Mr. Smith transferred to a multi-national program known as the Multiple Launch Rocket System - Terminally Guided Weapon Program, (MLRS-TGW) and was directly responsible for managing the only United States subcontractor (TRW & Hughes Aircraft). Mr. Smith resigned from Martin Marietta in April 1987 to actively pursue his brokerage/investing interest in commercial real estate. His professional experience during these 9 years at Martin Marietta Orlando Aerospace and his 25 years experience in owning and operating his own apartments has been invaluable in providing solutions for both buyers and sellers of multifamily housing.
Personal
Mr. Smith is married and has a 29 year old son and a 24 year old daughter. Although he never seems to find enough time, he enjoys golfing, most water sports, Blackjack, family vacations (away from Orlando), rehabilitating apartments, and snow skiing. He is also active in the Apartment Association of Greater Orlando. Below is a sample of some renovations he has done over the past years on his own apartment buildings:
Lake Lawsona Apartments
"Before"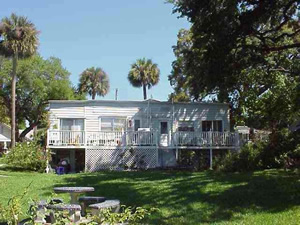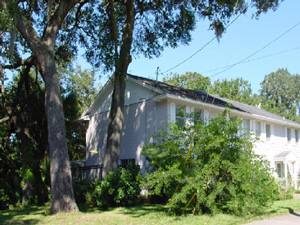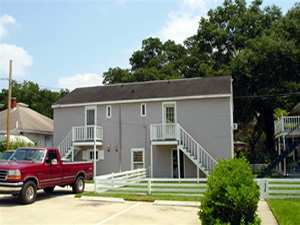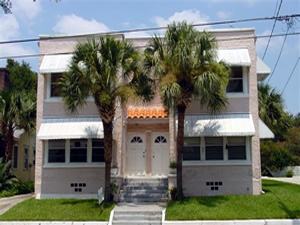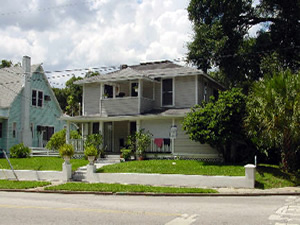 Lake Lawsona Apartments
"After"