Gerald A. Smith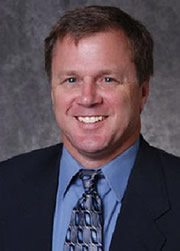 Gerald A. Smith
Senior Investment Advisor
Email: Gerald A. Smith
Phone: (407) 422-0704 Ext. 103
About Gerald A. Smith
Gerald has been active in Commercial Real Estate since 1991. He is an active member of the Apartment Association of Greater Orlando (AAGO) where he served as President in 2007. He is also a member of the Florida Apartment Association as well as the National Apartment Association. Gerald has been Smith Equities Real Estate Advisors top producer in 2003, 2004, 2005, 2006, and 2007. He has been involved in the sale of over 9000 multifamily units valued at approximately one billion dollars. Gerald is a graduate of the University of Floridawhere he earned a Bachelor of Science degree in Finance. He was elected to the Lake County School Board in 1998 serving a four year term from 1998 to 2002. Gerald served as Chairman of the Lake County School Board the last two years in office overseeing a school system with over 30,000 students, 3500 employees and an annual budget of $170,000,000.
Other Professional Experience
Gerald started his professional career at Martin Marietta Orlando Aerospace (now Lockheed Martin) in July 1980 as an Associate Industrial Engineer. He was selected to the Subcontract Evaluation and Negotiation Team and was involved in over 2 billion in contract negotiations. Gerald's background in finance/industrial engineering led to his being named team leader in major negotiations. In April 1988, Gerald was promoted to Manager of Subcontracts/Material and was directly responsible for the management of over $400 million in contracts and over 20 procurement personnel. This position required interface with all levels of management in companies ranging from small individually owned, to large multinational companies throughout the United States and abroad. Gerald left Martin Marietta in April 1991 to pursue full time his interest in Commercial Real Estate.
Personal
Gerald and his wife Frances have three children, Caroline 24, Austin 22, and Benjamin 19. Gerald enjoys all types of sports including water sports, boating and golf.